Kestrel - HUD / Accessories

£7.50


NB: Price shown includes 20% UK VAT if you are accessing the site from within the UK. Price shown will exclude UK VAT if you are outside of the UK.

is back-ordered. We will contact you with a delivery estimate.




This product is out of stock.
Description
KKestrel - HUD / Accessories
View critical target data and information without ever coming out of the scope. The Kestrel HUD is a gun-mounted display that gives you instant access to real-time shooting solutions from your Kestrel 5700. The 2.5" screen puts bold, sunlight-readable numbers right in your line of sight - maximizing your focus for effective rapid engagement of multiple targets.

The brand new Kestrel HUD wirelessly connects to your Kestrel Ballistics Meter so you can easily see shooting solutions for up to 10 targets on a clear, convenient, gun mounted display, providing the fastest, most accessible targeting solution data available. Spotters can feed shooters updated target data on the fly and stage data is ready on the HUD as soon as it's entered into the Kestrel. No more markers and masking tape! Let the Kestrel HUD do the job of managing your target data so you can focus on shooting and hitting more targets.
The Kestrel HUD Heads Up Display wirelessly connects to Kestrel 5700 Ballistics Weather Meters via LiNK Bluetooth Low Energy wireless technology.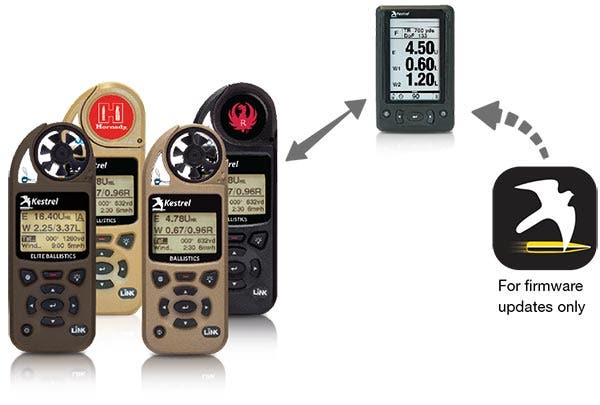 Sporting Services Lt
The HUD connects to the Kestrel LiNK Ballistics app for iOS and Android for firmware updates ONLY.
*You are not able to change HUD settings or access HUD features in the app.
Features & Functions
Kestrel HUD Heads Up Display for 5 Series Ballistics Meters

$399

Kestrel HUD Heads Up Display for 5 Series Ballistics Meters with Remote

$489

Picatinny Mount Included
✓
✓
Wired Remote Navigation
Available
Included
Hardwire Connection to LRFs (iCugr, Raptar, Storm) via Y-Remote Cable (when it becomes available for purchase)
Available
Available
Single Target Screen
✓
✓
Timer
✓
✓
Large Font Option
✓
✓
DOPE Range Card Screen
✓

(5700 Elite only)

✓

(5700 Elite only)

Custom Target Card Screen - View up to 10 Target
✓

(5700 Elite only)

✓

(5700 Elite only)

Live Updates from Kestrel on Single Target Screen
✓
✓
Backlight
✓
✓
Available Features
Single Target Screen

 

- Displays accurate firing solution along with up-to-date target and environmental details
Custom Target Card Screen

 

- View up to 10 targets without ever coming out of the scope*
Large Font Option

 

- Improves visibility and focus on critical data while reducing eye strain. Easy-to-read in direct sunlight and low light conditions.
Stage Timer

 

- Knowing your progress through a stage lets you make better decisions and hit more targets
Remote Switch

 

– Switch between targets and send target data to your Kestrel without changing your shooting position
Live Updates

 

- Target screens display live updates from Kestrel readings for the most relevant, valuable ballistic data
*DOPE Card Screen

 

- Download full range card specific to your rifle and bullet -- eliminating the need for pen and paper
*Target Card Screen

 

- View and receive live updates for up to 10 unique targets when paired with 5700 Elite
*5700 Elite unit only
Included in the Box
Battery - 1 x AA
Protective Drawstring Pouch
Picatinny Rail Mount
Instructions
specs
Sealing - IP67 Waterproof
Shock Resistance - Mil-STD-810g shock tested (Transit Shock, method 516.6 Procedure IV)
Warrantied for use on rifles up to .338" in caliber
For use with 5700 Ballistics units
Runs on 1 AA battery (Lithium recommended)
80+ hours of battery life, reduced by backlight use
Auto Shutdown – User-selectable – Off, 15-60 min with no key presses
Designed and built in the USA from US and imported components. Complies with Regional Value Content and Tariff Code Transportation requirements for NAFTA preference Criterion B
CE certified, RoHS, FCC, IC tested and WEEE compliant
Display and battery operational temperature limits: 14F – 131F/-10C – 55C
Storage temperature: -22F – 140F / -30C – 60C
Size & Weight:

HUD alone: 3.5'' L x 2.25'' W x 1.25'' H and 108.55 g or 3.28 oz
HUD Mount is 76.45 g or 2.69 oz
HUD Remote is 28.75'' long and 61.40 g or 2.16 oz