TriggerTech - AR10 Two Stage Adaptable Curved Trigger - ART-TBB-25-NNC

£245.83


NB: Price shown includes 20% UK VAT if you are accessing the site from within the UK. Price shown will exclude UK VAT if you are outside of the UK.

is back-ordered. We will contact you with a delivery estimate.




This product is out of stock.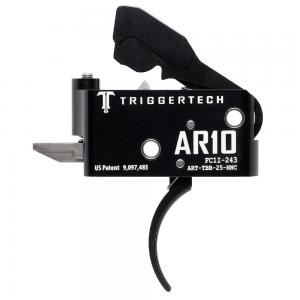 Description
Triggertech's AR10 Triggers are built for top competitive shooters to offer the most accurate and dependable trigger on the market. Featuring Frictionless Release Technology™, this drop-in AR trigger has a short, two-stage action, designed to feel like a 1911 trigger, that provides a true zero-creep break, extremely short overtravel, a sub 0.015" tactical reset and offers outstanding reliability, even in the harshest environments. Utilizing CLKR Technology™, the pull weight is quickly and confidently adjusted in 2oz increments from a set screw with the trigger installed. Due to there being truly zero creep, most shooters report the pull weights feeling ~0.5lbs lighter than a friction based trigger of the same measured pull weight. Changing the pull weight does not affect hammer force so you get dependable primer strikes at every weight. Frictionless Release Technology™, along with hardened 440C stainless steel internal components ensure corrosion resistance and an extended service life. As Frictionless Release Technology™ does not rely on coating, polishing or lubricating the key engagement surfaces, trigger pulls will be more consistent from shot to shot and after thousands of shots than you ever thought possible.
All pull weights and measurements are approximate
Intended Use
Long range, competition, precision shooting, harsh environments, law enforcement, military, target shooting.
---
Specifications
Trigger Pull Weight - 

2.5-5.0 lbs

Fits - 

AR10

Handedness - 

Ambidextrous

Trigger Bow Type - 

Curved

Trigger Pull Weight (High) - 

5-5.9 lbs

Trigger Pull Adjustable - 

Yes

Item Condition - 

New

Product Type - 

Triggers